How to Wind a Omega Watch?
May 7, 2022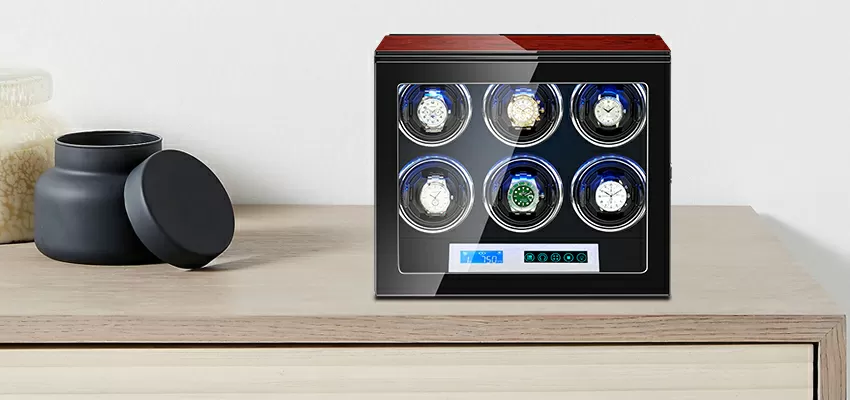 Contents
Since its founding in 1848, the Swiss watch brand Omega has been a pioneer in its own right, striving for innovation and distinguishing itself from other watch brands. From the depths of the ocean to the vastness of space, it has set an example of exceptional quality and precision. Omega is undoubtedly one of the best watches in the industry. Do you know how to wind an Omega watch?
Find out more about wind a Rolex watch.
Find out more about wind a Breitling watch.
About Omega
Omega is a luxury watchmaker based in Switzerland. The brand's penchant for accuracy resulted in its repeated success in the chronometer trials of the 19th century, held at observatories across Germany and Switzerland. The Constellation watch dominated the trials, and set precision records at the Kew Observatory in England. The Constellation continues to uphold high standards of accuracy.
With Omega's reputation firmly cemented, the demand for quality timing equipment grew. And in 1932, the brand became the first official Olympic timekeeper, responsible for supplying and operating the 30 watches needed for all the events at the Los Angeles Games, and remains the official Olympic timekeeper to this day. But Omega watches did not just conquer the land. The brand's watches were also the first to be chosen by NASA to be flight-qualified for space missions, with the Speedmaster taking the title of the first watch on the moon.
With an ever-growing desire to innovate, the company has pioneered various ideas and technologies to broaden the usability of its watches. From motorcycle-mountable watches to watches with raised markers on the dial for use by the blind, Omega never settles for the ordinary. Patenting the first mobile photoelectric cell and developing touchpads for timing swimmers are fine examples of the brand's pursuit of excellence. Even the familiar sight of an athlete's time superimposed onto the television screen is a development of technology that the brand introduced, aptly named the "Omegascope".
In its quest for development and innovation, Omega has remained true to its tradition of producing elegant and high-quality luxury watches with efficient and precise manufacturing methods.
Steps for winding a Omega watch
Omega cannot be wound arbitrarily, but rather the most appropriate method is chosen for the specific model. Knowing how to wind your Omega watch is very important to ensure that the watch is not damaged and that the movement lasts as long as possible.
The operation of an Omega self-winding mechanical watch depends on the movement of the wearer's wrist. In a fully wound state, the watch's power reserve usually ranges from 44 to 60 hours, depending on the movement model. Since the self-winding mechanical system is directly linked to the wearer's wrist movement, 10 to 12 hours of wear is sufficient to generate a power reserve of at least 20 hours to keep the watch running properly during the night. However, when the watch is not worn for several days, the power reserve is significantly reduced and it is recommended that you perform a manual winding by turning the crown approximately 15 turns in a clockwise direction to ensure the proper functioning of the watch. Be careful not to over-wind your watch, although modern Omega has a clutch watch system to prevent the spring from breaking if it is wound too tightly, older models do not, so once you find it increasingly difficult to wind, you may have reached the level of the full power reserve.
Automatic watches usually don't need to be wound very often because the power reserve will keep winding as long as you keep it on. You only need to wind the watch when you take it off for an extended period. Omega Sport and Classic watches have this feature, but some models do not. Take for example one of the most famous watches ever made by Omega, the moon landing watch on the wrist of an astronaut in 1969. Since the rotor used in automatic Omega works on kinetic energy, which depends on gravity, there is no gravity as long as you are in space. As a result, the kinetic energy would not work, rendering the rotor function completely useless. Therefore, if you own an Omega Moonwatch or a pre-1931 vintage Omega watch, you will have to manually wind your watch every day. Although most people who buy a Moon Watch in 2022 won't be going to the moon or space, Omega is keeping it in near-pristine model condition.
Since there is no rotor in the movement to constantly recharge your power reserve, you want to make sure your Omega watch stays wound or it will stop ticking and the time will not be right. Since moon watches and vintage Omega regular watches do not have a screw-down crown, you do not need to unscrew the crown. In the first position, where the crown is fully pushed in, you can simply start winding your Omega. Be careful not to over-wind your manual Omega, this can break the spring, which means your watch no longer has a power source. As you wind it, you should feel a small click, then you should stop winding it.
If you don't like winding watches, or if you have multiple watches that need to be rotated, it is a good idea to purchase a watch winder. Omega watches typically require between 650 and 800 TPD(turns per day), and most can be wound clockwise or in both directions. We have previously described the winding specifications for the Omega watches. If you cannot find your watch model on the table, you can consult the manufacturer or try it on repeatedly to determine the winding pattern of your watch.
To help you pick the best watch winder for your Omega, I recommend the following 5 watch winders.
1. WOLF 270002 Heritage Single Watch Winder with Cover, Black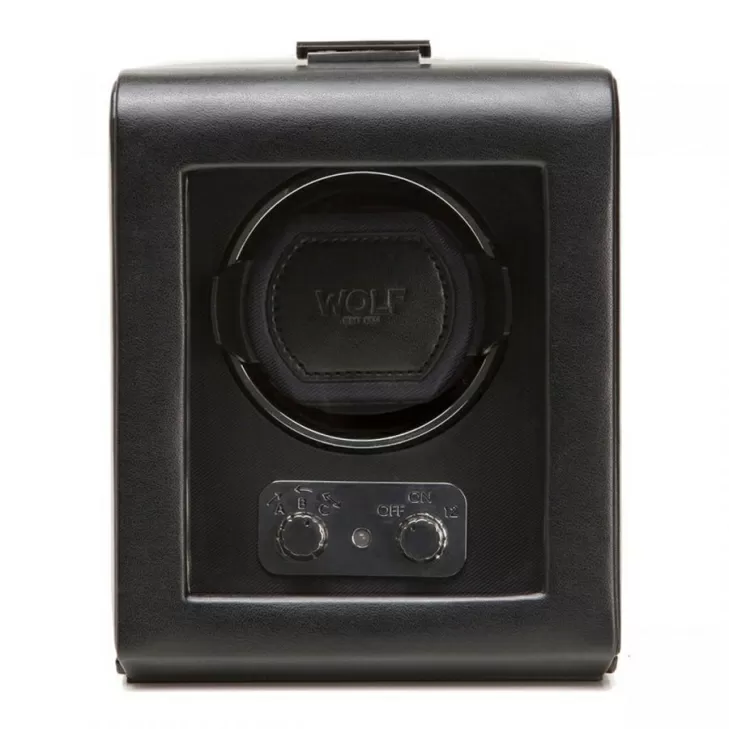 Material: Faux leather/Satin lining/Glass cover
Size: 14.2*20.9*17.5cm
TPD 900
Supports all three winding directions
Anti-magnetization
Dual power supply
2-years warranty
Since 1834 the WOLF mark has been a symbol of decades of innovation and the pursuit of the perfect design. A WOLF winder is a handmade precision instrument that focuses on the health of your watch with patented innovation. Only a WOLF counts rotations – all others simply use time to estimate the counts per day. The Heritage Men's collection offers functional, classically designed pieces for your everyday use.
2. BARRINGTON Automatic Watch Winder for 1 Watch - Compact, Quality, Single Watch Winder with Lots of Great Features. Mains or Battery Powered - Barrington, Winding Watches Since 2009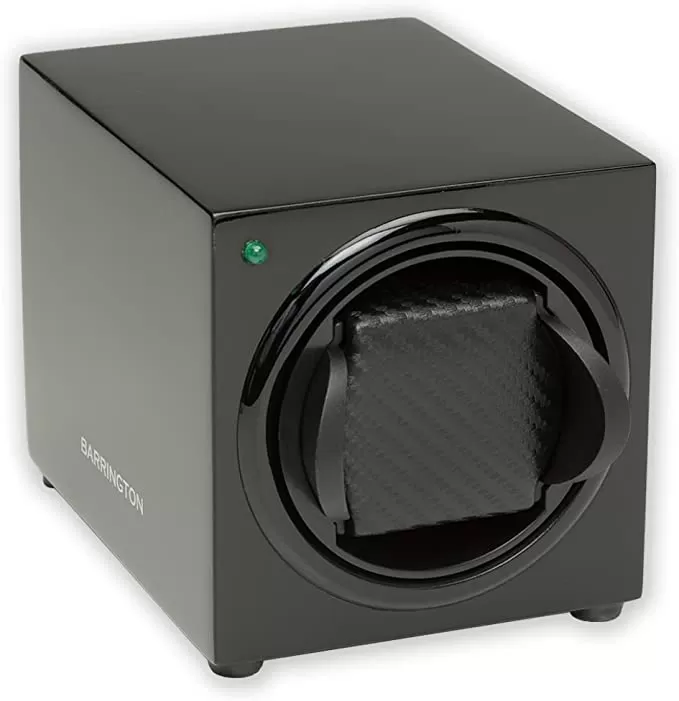 Size: 28*20*18.8cm
TPD settings ranging from 650 to 1950
Supports all three winding directions
Anti-magnetization
Dual power supply
Mabuchi motor
12-months warranty
The Barrington logo is your assurance of the high standard of the winder. Advanced circuit board technology, ultra-quiet motors, and scratch-resistant cushions all housed in robust casing mean the focus on quality is evident throughout. From the compact size of the single winders in stylish colors to the sleek line of the modern multi-watch winder cabinets, the designs of the Barrington Watch Winder range make them stand apart from others and they serve as a conversation piece in their own right.
3. Best Single Watch Winder - Black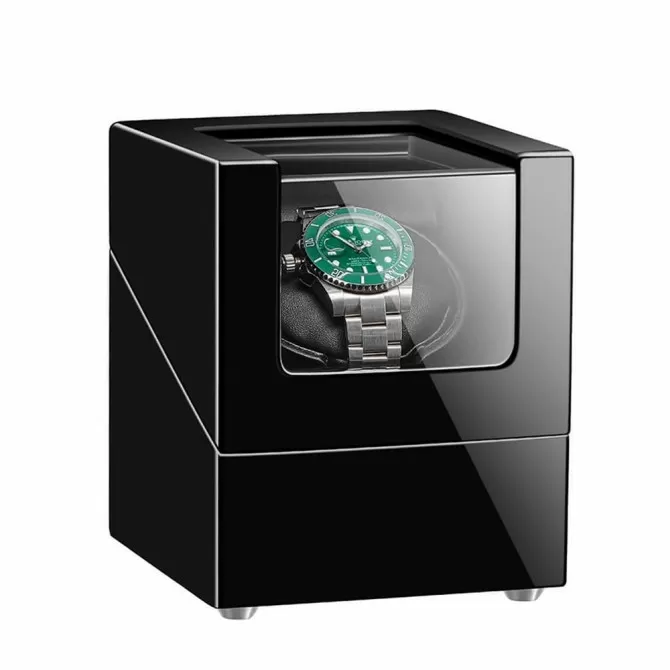 Material: Wood box/PU pillow/Acrylic panel
Size: 13*13*16.5cm
5 modes, TPD settings ranging from 650 to 900
Supports all three winding directions
Anti-magnetization
Mabuchi motor
Dual power supply
18-months warranty
JQUEEN watch winder is a well-known watch winder manufacturer, we manufacture each watch winder with great inspiration in design and premium quality in materials. Up to a million persons from more than 20 countries use JQUEEN watch winders every year. If you are struggling to find a reliable watch winder brand, with no doubt that is JQUEEN. This watch winder surface is made through many processes of painting which makes it more beautiful, bright, and smooth. The flannel inside and wood pattern look fashionable and luxurious.
4. WOLF 270402 Heritage Double Watch Winder with Cover and Storage, Black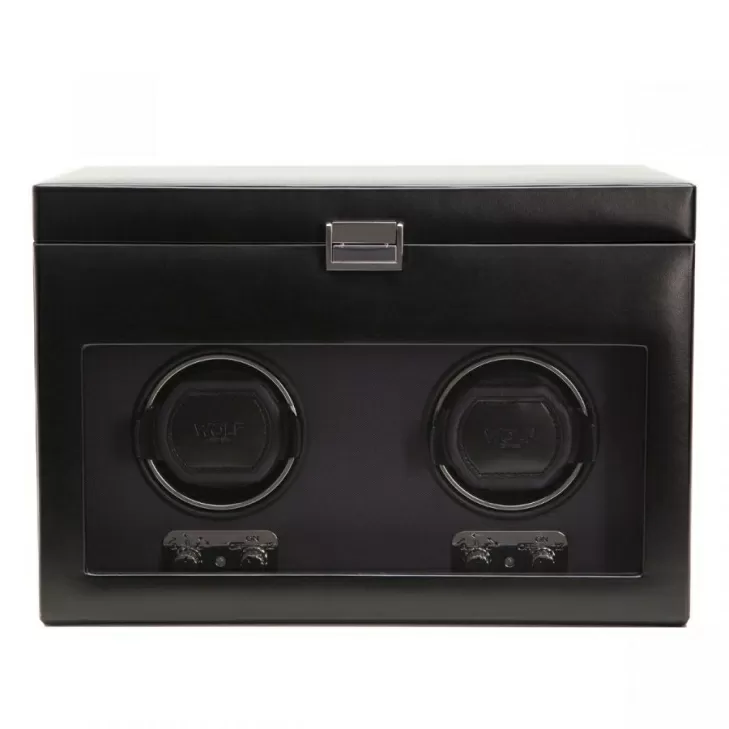 Material: Faux leather/Satin lining/Glass cover
Size: 33.1*20*22.5cm
TPD 900
Supports all three winding directions
Anti-magnetization
Dual power supply
Mabuchi motor
2-years warranty
The collection offers functional and classically constructed pieces for everyday use. This effortless design gives the capabilities and freedom to keep timepieces safe, both at home and at the office, at all times. The cuff has been designed to fit bigger and heavier watches (up to 52mm case). The new design "locks" the cuff into the rotator drum for a secure fit.
5. Vertical Best Budget Watch Winder for Double Watch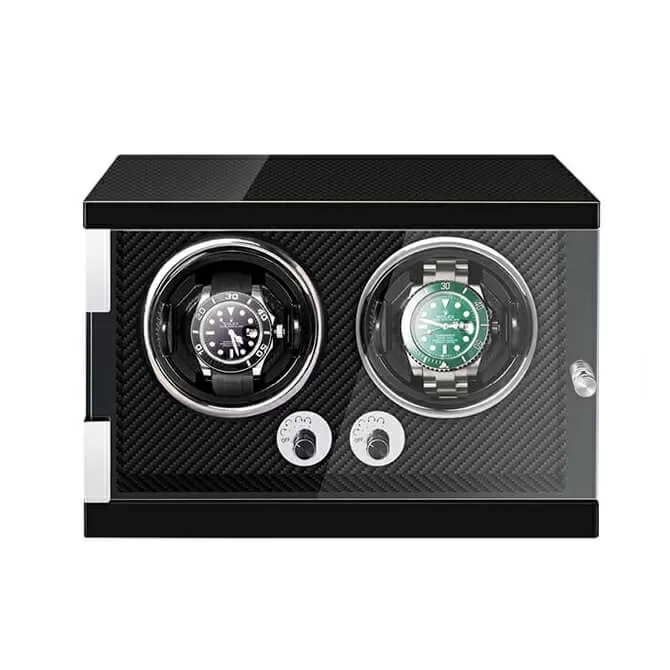 Material: Carbon fiber box/PU pillow/Acrylic panel
Size: 26.5*18*18cm
5 modes, TPD settings ranging from 650 to 900
Supports all three winding directions
Anti-magnetization
Mabuchi motor
Dual power supply
18-months warranty
The watch winder is made of carbon fiber which is resistant to high temperature and corrosion, while the pillow is made of leather which is soft and can protect the watch well. There is a LED light switch at the back of the watch winder which can control the light. When you turn on the light you can see your watch more clearly at night. The door buckle can make you more easily to open and close the lid.
Conclusion
There are several ways to wind an Omega watch, and you can easily follow the tutorial to wind it manually. However, for self-winding watches, it is best not to manually wind them too often. Using a watch winders may be a good option.
Thanks for your reading. If you want to see more models of watch winders, you can take a look at JQUEEN, we provide a full range of services for you.
If you have any
question
, please feel to contact me.