How to Wind a Breitling Watch?
May 3, 2022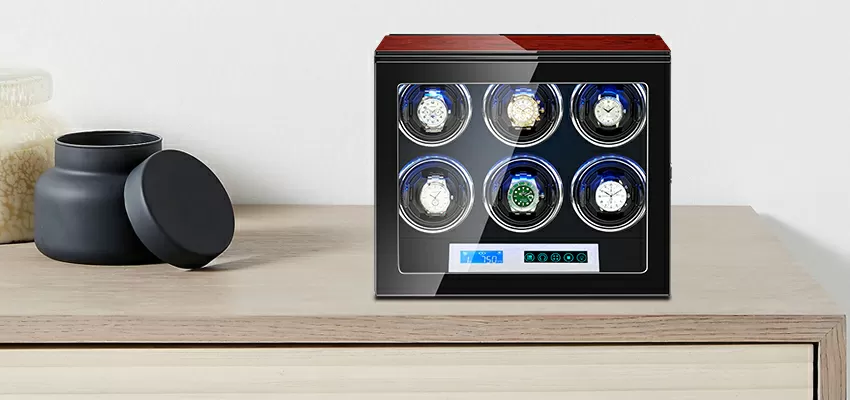 Contents
Owning a Breitling watch is the desire of many watch enthusiasts. Even with increasing competition, the Swiss-made luxury timepiece remains one of the most exquisite pieces on the market. Do you know how to wind a Breitling watch? This article will give you a detailed introduction. To learn how to wind a Rolex watch click here.
About Breitling
Breitling is a Swiss luxury watchmaker based in Grenchen, Switzerland. The company was founded in 1884 by Léon Breitling in Saint-Imier, Switzerland. Breitling has witnessed countless glorious moments in mankind's long journey to conquer the skies thanks to its precise, reliable, and high-performance precision instruments. As the only watch brand in the world whose entire range of movements is chronometer-certified by the COSC, Breitling not only symbolizes exceptional precision but is also one of the few watch brands to have developed and produced its own self-winding chronograph movements. A family-owned company, Breitling is also one of the few remaining independent Swiss watchmakers.
Combining its many years of experience in making watches for the aviation industry, Breitling constantly focuses on the functional positioning of its watches and adapts them to the needs of specific industries such as aviation, navigation, and diving, making its products distinctive and a perfect combination of practicality, functionality, and versatility. As a result, Breitling watches are not only timepieces but also precision instruments, earning the name "aviation computer".
Steps for winding a Breitling watch
If an automatic watch has not been worn in a few days, the owner should fully wind it before wearing it again. Wind your watch before you strap it on for the day, which keeps stress off the stem. Once you begin to wear the watch again, your body's natural movement will power the mainspring to make it run.
To wind a Breitling watch, first, find the winding crown on the right side of the case, then turn the crown counterclockwise to unlock it. Once the crown is in the unlocked position, begin winding in a clockwise motion. If it is a new watch, you should wind it gently 40 times, or until the winding limiter makes it hard to wind the watch. If it's not a new watch, and it's an automatic watch, you should wind it 10-15 times, or until you start to feel some tension in the winds. Once you feel the tension of the winding crown, you have done enough winding. Be sure not be too tough and rude when doing it, as some people end up damaging the crown this way as well.
Watch winders for Breitling
An watch winder is a jewelry box equipped with a motor and a microprocessor that is responsible for rotating the watch in a prescribed way. The purpose of a watch winder is to simulate the motions of the human wrist by making a set number of TPD. Using a winder to ensure that your watches remain in operation at all times can help to maintain performance. We're sure you will enjoy the elegance and functionality of a watch winder for a very long time.
The majority of Breitling watches need to rotate 650 to 800 TPD(turns per day) and can wind in bi-directional. In the previous article, we introduced the winding specifications of the most popular Breitling watches. If you cannot find your watch model in the table, you can ask the manufacturer or adjust it repeatedly on a trial basis to determine your watch winding pattern. Here are some of the most recommended watch winders for Breitling watches.
1. Single Jqueen Watch Winder - Bamboo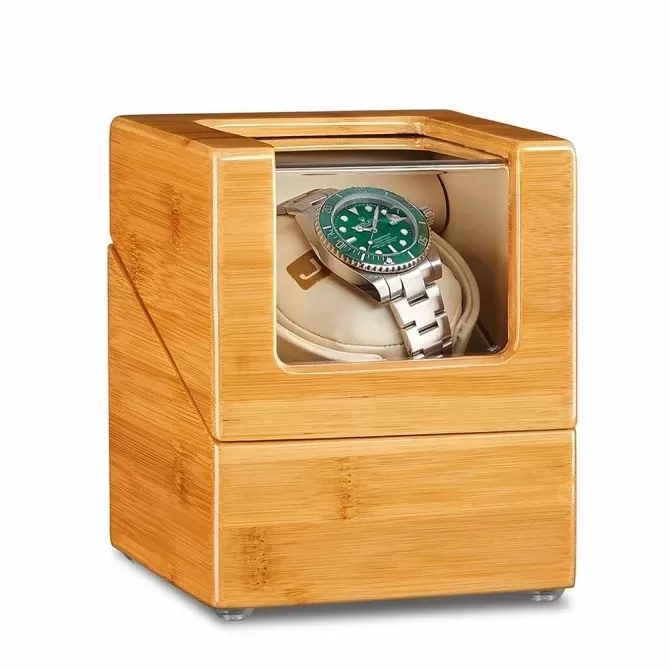 Material: Bamboo box/leather pillow/Acrylic panel
Size: 18.5*18.5*20cm
Weight: 2kg
TPD settings ranging from 650 to 900
Supports all three winding directions
Dual power supply
The watch winder is made of high-quality bamboo, which is very environmental-friendly, and the pillow is made of leather which is soft and can protect the watch well.
2. New version watch winder double watches with quiet motor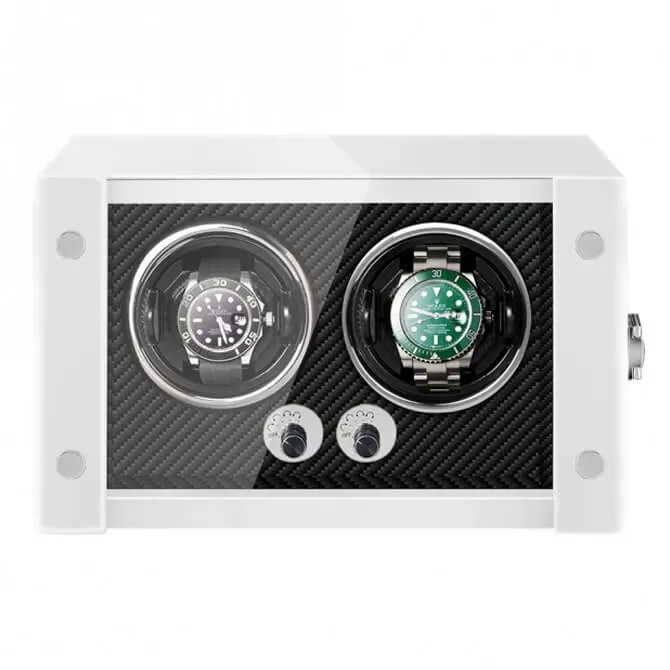 Material: PU pillow/Acrylic panel
Size: 26.5*18*18cm
Weight: 3.82kg
TPD settings ranging from 650 to 900
Supports all three winding directions
Dual power supply
The surface of this product is painted in many processes which makes it smooth and bright, and it is not only a helper to protect your watch and extend the life of your watch but also a great tool to store and show your watch collection.
3. Sepano 4 Watch Winder Box, Black Piano Paint, Quiet Motor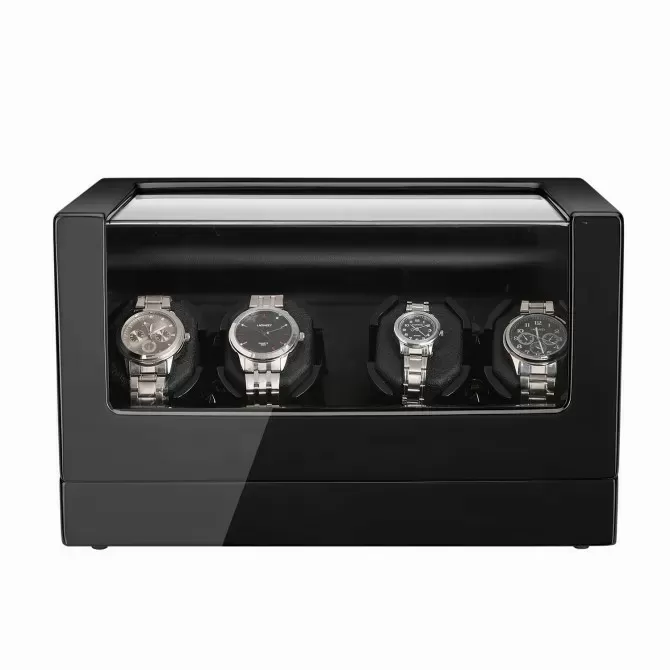 Material: Ebony wooden box/PU pillow/Acrylic panel
Size: 32*18*19cm
Weight: 4.1kg
TPD settings ranging from 650 to 900
Supports all three winding directions
Dual power supply
The watch winder is hand-made with black piano spray paint, with soft PU leather pillows interior, and the transparent acrylic glass design is more convenient to watch.
4. Jqueen Best Watch Winder for Breitling with LCD Touch Screen for 6 Automatic Watches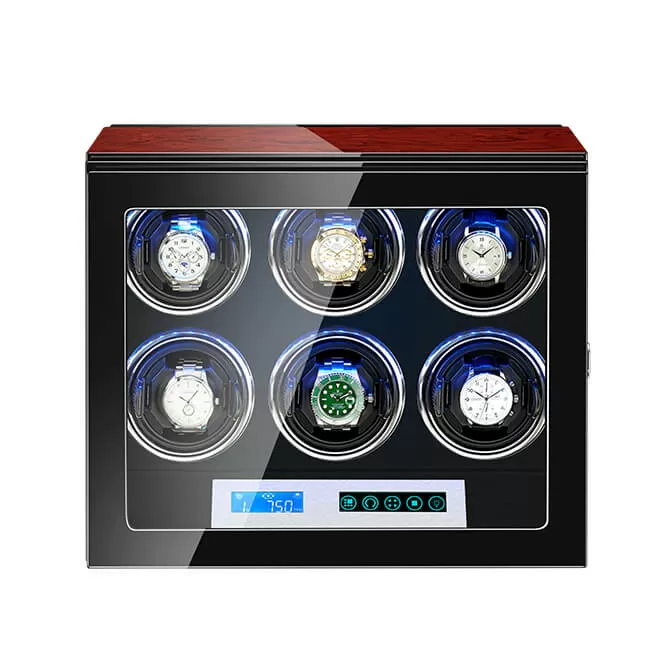 Material: Rosewood box/PU pillow/Acrylic panel
Size: 38.8*21*31.2cm
Weight: 9kg
TPD settings ranging from 650 to 1950
Supports all three winding directions
There is 6 watch space in the watch winder which can meet your needs well. The LCD touch screen is more intelligent and is convenient for you to set up TPD and control the LED light. The door buckle can make you more easily to open and close the lid.
5. Unique Watch Winder With Nine Quiet Motors, in Black Red Leather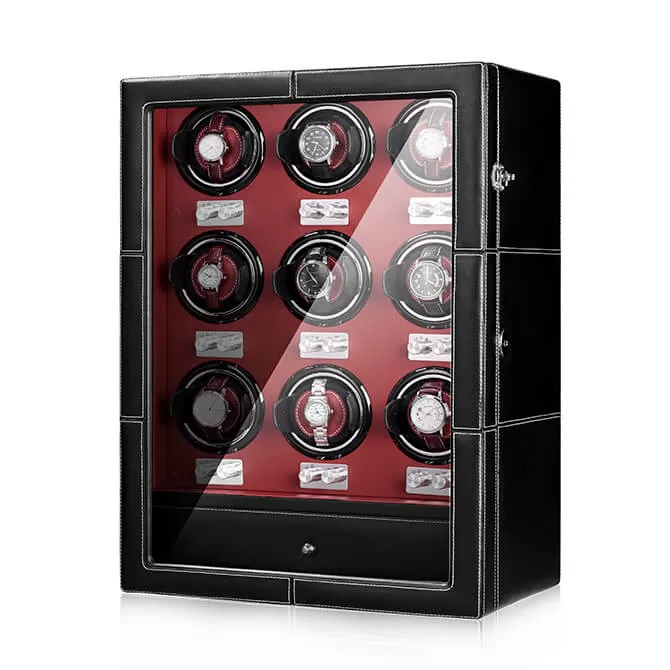 Material: Leather box & pillow/Acrylic panel
Size: 54.5*21*37.5cm
Weight: 12.9kg
TPD settings ranging from 650 to 1950
Supports all three winding directions
Additional 6 watch storage slots
There are 10 modes to adjust the winding way that can match the different brands of watches. It has 9 winder spaces and 6 storage spaces in the watch winder which can fit your needs, and the storage place in the watch winder adopts a drawer design that is more dustproof.
Conclusion
If you have a Breitling watch, try to minimize the number of manual windings and just wear the watch so that it winds automatically. In addition, using a watch winder is also a good choice. Storing a mechanical watch in a watch winder for winding keeps the mechanical gears of the watch lubricated, which extends the life of the watch and makes it work accurately.
JQUEEN watch winders use high-quality upgraded Japanese Mabuchi motors, a well-known brand that makes precision motors. These motors keep the noise below 10db, so even if you put it in your bedroom, it will provide you with a very quiet experience. The internal motor is enclosed and can be separated from the watch so that the watch will not be magnetized and affect the time. With 18 months warranty and friendly customer service, we welcome you to purchase our watch winders!
1. Can I overwind my watch?
No, you can't. Every Breitling mechanical watch includes a winding limiter. This means that you will not harm the internal mechanism by overwinding it.
2. Should I wind my Automatic watch daily?
I recommend that you prefer not to do this too often and that using the automatic mechanism to wind your watch is the best option.
3. How do I know it is safe to shop with you?
We protect the privacy of your information. And apply trustworthy third-party software including Secure Sockets Layer ('SSL') for all financial transactions.
Thanks for your reading. If you want to know more about watches and watch winders, you could browse our blog, where there is a variety of information for you. If you want to see more models of watch winders, you can take a look at JQUEEN, we provide a full range of services for you.