How to Wind a Rolex Watch?
Apr 27, 2022
Contents
About Rolex
Rolex was founded in London in 1905 by Hans Wilsdorf, a German, in partnership with Alfred Davis, an Englishman. The story began when founder Hans Wilsdorf created the first waterproof wristwatch-the Oyster and developed it into a range of timepieces that have become the icon of watchmaking.
Rolex is popular with successful people for its dignified, practical, and unobtrusive style, its watches are highly accurate and highly durable. The watches are highly valued for their robust, functional, and understated design and their precision and durability make them worth their weight in gold. Every production procedure is subject to rigorous quality control, and each watch is tested for water resistance in an air pressure chamber and then calibrated for accuracy by an atomic clock with an error of two seconds every hundred years.
Rolex has registered over 500 patents in the course of its history. Few companies have been so consistently identified with the pursuit of excellence, the quest for the absolute, the discovery of original approaches and innovative solutions.
Steps for winding a Rolex watch
Winding a watch is a complex task, but for many watch enthusiasts, it is part of the fun of interacting with a watch.
You can wind your Rolex watch by following these steps:
Step 1 -The first step is to hold the Rolex in your hand and turn the crown counterclockwise towards you. The winding crown will begin to release from the screws within the watch. Once the winding crown has completely detached from the screws, it will pop out and go into the winding position.
Step 2 -Turn the winding crown clockwise or forward for 35 to 40 rotations. You should begin to feel the tension and hear a light clicking sound. Continue to turn the crown approximately forty times to start the watch and give it full power.
Step 3 -After the Rolex is wound, you can now set the date. Pull the crown out slightly and it will click into the next position. This position is how you will set the date. Set the time by turning the knob of the crown clockwise away from you.
Step 4 -Using the winding crown again, pull the crown out to reset the hands. Begin turning the crown clockwise, or forward, and the hour and minute hands move.
Step 5 -Once you have set your time and date for your Rolex, you will need to close the crown. Push down the crown completely before screwing to avoid accidentally adjusting the date.
Step 6 -Lastly, screw the crown of your watch back gently and fully to restore the watch's hermetic seal. Take care not to over-tighten the crown
Watch winders for Rolex
You don't have to wind a Rolex if you wear it every day since it has a self-winding capability. If not worn for 48 hours, however, you need to wind your Rolex watch manually before you set the time to help restore its power. If you're tired of having to manually wind your watch every time you wear it, you need a watch winder. It will wind your watch when you are not wearing it, which helps extend the life of your watch and provides you with convenience.
The majority of Rolex watches require bi-directional winding and 650 TPD(turns per day). And in the previous article, we introduced the winding specifications of the most popular Rolex watches. If you cannot find your watch model in the table, you can ask the manufacturer or adjust it repeatedly on a trial basis to determine your watch winding pattern.
JQUEEN offers some specialized watch winders for Rolex watches, and below you will find a few of our hot sellers.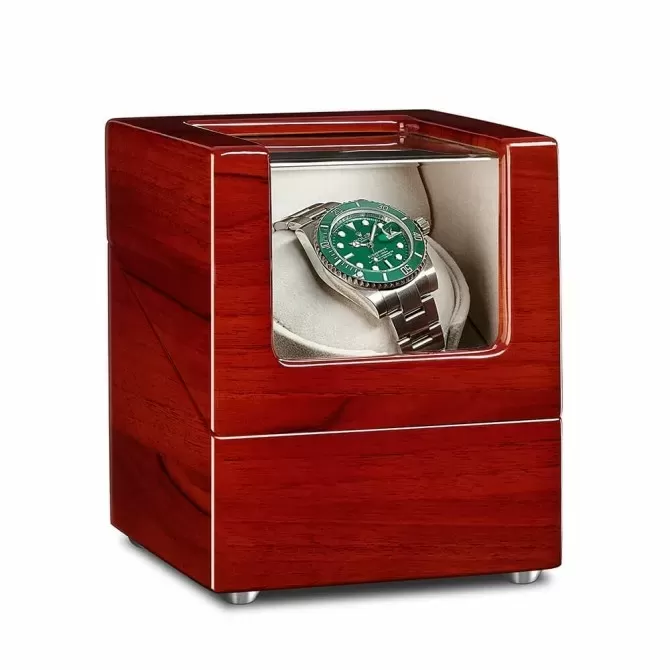 The watch winder is made of high-quality applewood, which is environmentally friendly and has exquisite wood grain. The pillow is made of flannel, which is soft and can protect the watch well. The size of the pillow is adjustable, so it can be used for both large men's and small women's watches. The surface is made through many processes of painting which makes it more beautiful, bright, and smooth. The flannel inside and wood pattern look fashionable and luxurious. Find out more about single watch winders.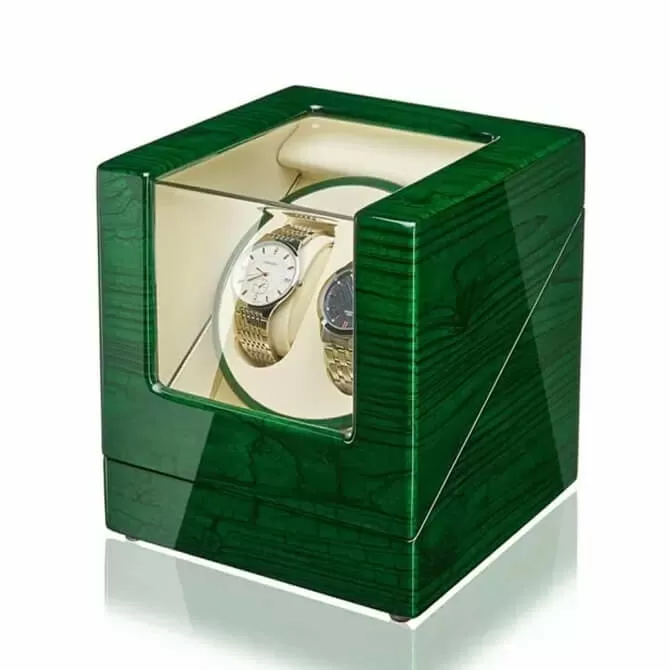 The watch winder is made of high-quality wood, while the pillow is made of leather which is soft and can protect the watch well. There are 5 modes to adjust the winding way that can match the different brands of watches. The internal motor adopts a closed design which can separate it from watches so that watches can not be magnetized and influence the time. Find out more about double watch winders.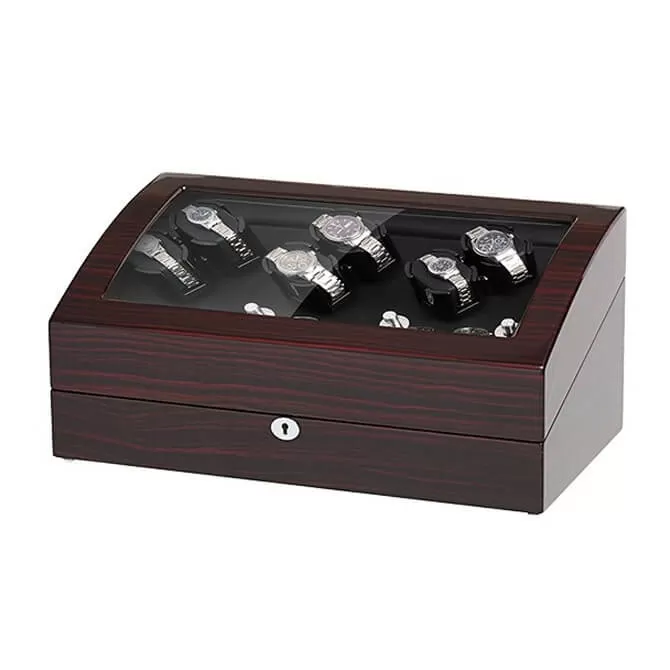 This watch winder with 6 winders and 7 storage slots provides maximum usability in a compact size. It has a large storage compartment, so you can put all your watch collections. It uses a durable Japanese upgraded Mabuchi motor which is a well-known brand to make precision motors. These motors control noise under 10db that even though you put it in your bedroom it can also offer you an extremely quiet experience. Find out more about storage series.
Our watch winder is packaged in four layers of waterproof pearl cotton, a non-woven bag, full-cover pearl cotton, and an outer carton to ensure our products are completely safe. And we have an 18-months warranty and friendly customer service. If you have any questions, please feel free to contact me.
Conclusion
Storing a mechanical watch in a watch winder for winding keeps the mechanical gears of the watch lubricated, which extends the life of the watch and makes it work accurately. JQUEEN watch winders use high-quality upgraded Japanese Mabuchi motors, a well-known brand that makes precision motors. These motors keep the noise below 10db, so even if you put it in your bedroom, it will provide you with a very quiet experience. The internal motor is enclosed and can be separated from the watch so that the watch will not be magnetized and affect the time. With 18 months warranty and friendly customer service, we welcome you to purchase our watch winders!
FAQS
1. Will winding a watch manually often damage it?
Frequently winding an automatic watch manually will accelerate wear. Once the mechanism wears out and cannot be repaired in time, the wear will increase rapidly, especially on the winding and manual winding parts.
2. Does my Rolex watch overwind?
As long as your watch is one of Rolex's Perpetual models with a self-winding movement, there is no way that you can "overwind" it. Once the mainspring is fully wound, a type of slip gear engages that prevents additional tension from being supplied to the mainspring. This mechanism exists as a safeguard to prevent watches from automatically overwinding themselves, and it also ensures that you do not inadvertently damage your watch should you choose to hand-wind it.
In simple terms, an automatic watch winder is a jewelry box equipped with a motor and a microprocessor that is responsible for rotating the watch in a prescribed way.
If you are an avid watch collector and own a few watches or don't require to wear your watch daily, you will need to think about investing in a watch winder to keep those hands moving. The winder mimics the movement of your wrist motion keeping the rotor spinning. They also are the perfect way to store your watch collections.
No, automatic watches and their movements are not affected by the magnetic field generated by the winder motor. This magnetic field is so small that it has no effect on the watch and its movement. In addition, all modern automatic watches are made of non-magnetic materials such as titanium, brass, stainless steel, etc. Therefore, they are non-magnetic and are not affected by proximity to magnetic fields.
Thanks for your reading. If you have further questions, you can check out our dedicated section for Rolex. If you want to know more about watches and watch winders, you could browse our blog, where there is a variety of information for you.