Top 8 Best Double Watch Winder 2022
May 1, 2022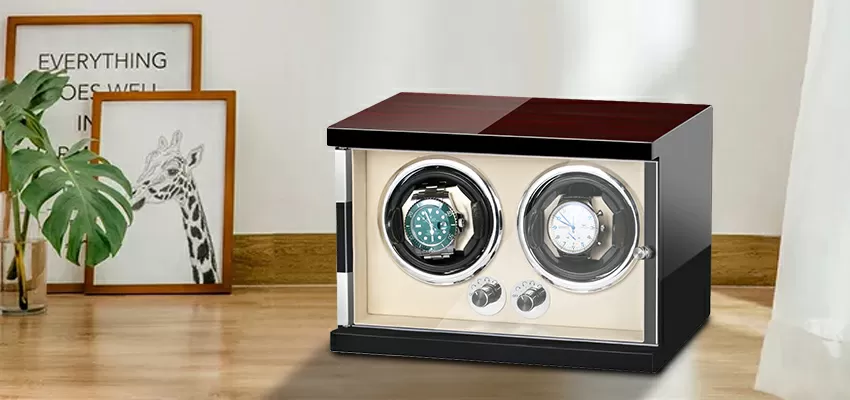 There are various watch winders on the market, some of which can only hold 1 watch and some can hold many watches. If you don't have a large number of watches, but more than 1, you may need a double watch winder, which is a watch winder can wind 2 watches at the same time. Do you know how to choose a watch winder? In the previous article, I introduced some single-watch winders. In this article, I will introduce you to the top 8 double watch winders with the best user reviews.
Heiden Monaco Double Watch Winder in Black Leather - Battery Powered or AC Adapter
The Heiden Monaco double watch winder is designed with quality materials such as cross-stitched leather, a soft gray linen interior, a soft watch pillow, and plenty of interior space to hold large and oversize watches. The watch winder uses the newest Japanese Mabuchi Motor and gear design. When you turn on the watch winder, you won't even know it's on because of the quietness of the motor. The watch winder is designed with zero magnetization so it will not harm your watches. The watch winder can be powered by either 2 x D size batteries or the included AC adapter (110-240V). When powered by batteries, it will last 1-3 months depending on the setting. They offer a full 1 Year Warranty from the date of purchase. 
However, it should be noted that this watch winder also has some disadvantages. For example, a customer from the United States commented that it does not rotate the watches enough to keep time. Any watch he puts in this maximum rotation for a few days or weeks will be off by many hours, and the date will be off by a few days. He tried a variety of setting combinations over the past few months, but none worked. What's more, he also raised a question on the design of the appearance: "when sitting the winder on a countertop vertically, the watches do not stay in place - they tumble forward vertically. Other winders have the watch holders angle upwards, so the watches stay in place. Not this one - its horizontal holders rotate the watches forward into the glass door - a poor design."
INCLAKE High-End Double Watch Winder for Rolex with Super Quiet Motor, Blue LED Light & Flexible Watch Pillows, Watch Winders for Automatic Watches with AC Adapter or Battery Powered
This watch winder is made of high-gloss pearwood grain, which is elegant and textured. Soft PU lining to protect your watch from scratches. The adjustable pillow fits different sizes of watches. The built-in blue LED light is convenient to use at night. The operation of this watch winder is very quiet and long-lasting, it uses a Japanese Mabuchi Motor with less than 5db noise, which is completely negligible. Never have to worry about disturbing you. It has 4 different rotation modes to meet different needs: clockwise/counterclockwise/clockwise+counterclockwise/non-intermittent clockwise+counterclockwise.
Besides, It has only 1 TPD setting. A Rolex user writes: "There is only one speed for this winder, 2,880 TDP, which is way too fast. Most Rolex's require 650 TPD. Looks nice and works fine just the 1-speed option is why I'm giving it two stars. It's also not noted anywhere before you buy."
JQUEEN Double Watch Winder with Storage - Ebony
This watch winder has 2 watch winding spaces and 3 storage spaces. It uses a high-quality Japanese upgraded Mabuchi motor which is a well-known brand to make precision motors. These motors control noise under 10db that even though you put it in your bedroom it can also offer you an extremely quiet experience. It is made of high-quality ebony wood, which is very environmental-friendly, corrosion and moth resistant, while the pillow is made of leather which is soft and can protect the watch well. The surface of this product is painted in many processes which makes it smooth and bright, having a long use time. The internal motor adopts a closed design which can separate it from watches so that watches can not be magnetized and influence the time. The watch winder adopts a lock design not only decorates the watch winder but also protects the watch more safely. They have an 18-months warranty and friendly customer service.
"The only drawback is that the watch holders are too small for the bracelets on my watches. I tried to pad the holder but it made the watch hit the glass door. Aside from that, it works beautifully." One of the more frequent problems raised by users is that its size is a little larger than expected. Furthermore, although its pillow is adjustable, it's still a bit on the small side for larger watches.
WOLF 457256 Roadster Double Watch Winder with Cover and Storage, Black
Every WOLF winder counts the precise number of rotations. All other winders estimate the number of rotations. --This is the biggest advantage of the winder. WOLF watch winders exhibit innovative design and the best approach to maintaining the finest accuracy of all automatic timepieces. Through patented technology WOLF counts and records the number of rotations while in use. Features also include silent nylon gears, rotation programs, and a lock-in cuff designed to handle bigger, heavier watches.
Although this watch winder is very expensive, it has a plastic front window instead of glass, which may look a little cheap and not very cost-effective.
NEWTRY Automatic Watch Winder Double Watches Winder Boxes with Blue Light Quiet Motor for Watches Display Gift AC Adapter and Battery Powered for Men and Women Gifts
The double watch winder with touch screen is compatible with more than 99% of mechanical watches on the market. The maximum diameter of the watch can be up to 50mm. The circumference of the wrist of the watch should be within 18 cm. With LED backlight, the watch winder makes your watch look gorgeous and mysterious. It is also a good way to show your watches and decorate your rooms. There is a button to turn on or off the blue light. It is equipped with a high-quality Japanese motor, which is quiet and durable. It is also equipped with silent ball bearings to reach a better silent effect, stable and efficient.
However, quite a few users have said that the cover might be a little too tight for the watch. "If you have bulkier watches the watch tends to rub against the bottom front window as it turns. I have a larger wrist so naturally, I have a bigger bracelet, and I have to position the watch in a manner to prevent rubbing."
Versa Automatic Double Watch Winder in Black - New Direct Drive Motor, Independently Controlled Settings, 12 Different Settings, Adjustable Watch Pillows - No Magnets
The Versa double watch winder has been completely redesigned. The door now closes without the use of magnets. It also features independent on/off switches so you can turn the winder off when, not in use and control each watch independently. The watch winder also features exclusive direct-drive motor technology, which works without the use of belts or gears, significantly increasing the life and reliability of the motor. The modern contemporary design saves space by storing your watches vertically and at the perfect angle to keep your watch wound with minimal wear. Each part is precisely designed and tooled by machine and then hand assembled for exact fit and finish. Spring action watch pillows with additional attachments to hold large watches are included. The watch winder is programmed not to turn continuously to prevent overwinding. They also provide a 1-year warranty.
The exterior of this watch winder is made of plastic, which is not very elegant, and its magnet design also brings some inconvenience. "Be very careful about using this winder. There are very strong magnets on all four corners of the door and door frame." One customer even damaged his watch because of this.
MODALO Automatic Double Watch Winder Inspiration, with Solid Wooden Box and Piano Lacquer - German Development and Manufacture
With pure elegance and the exquisite workmanship of solid New Zealand wood, the high-gloss piano finish, and four coordinated design variants, the new collection presents a sophisticated watch winder, in which traditional materials and cutting-edge technologies are stylishly combined. The device is so well packaged that even the accessories and instructions come in their packaging, rather than being scattered around the box. The watch can be easily and securely mounted on the stand with spring clips and inserted into the watch winder. Different programs and rotation directions can be set for each watch and the operation is silent. A nice detail is that during the rest phase both watches stop at the 12 o'clock position.
However, all 5 of its TPD programs are a bit on the high side and may not work well for many watches.
JQUEEN New version watch winder double watches with quiet motor
This watch winder in white Piano baking varnish with black leather interior, brilliant finishing and precision structure, internal with PU soft watch pillow bring you an elegant luxurious unique vision, smooth, atmosphere, and quality with high-grade. It is not only a helper to protect your watch and extend the life of your watch but also a great tool to store and show your watch collection. There is a LED light switch at the back of the watch winder which can control the light. When you turn on the light you can see your watch more clearly at night. Designed to rotate larger or heavier automatic watches more safely with the "lock-in" watch stand, and wind your watch more professionally with the vertical watch stand position.
"when the unit opens up, it takes more space front to back (as well as vertically), so you can't put the back flush to a wall. Opening the top will push the entire unit forward about an inch." One U.S. user made the point that most people make, that this watch winder may require a little more space than expected.
Conclusion
If you have enough budget, the Wolf double watch winder is recommended. wolf is a well-known brand in the watch winder field and this would be a great addition to any enthusiast's collection.
If you are looking for a cost-effective watch winder, the JQUEEN double watch winder is recommended. The overall workmanship, simple operation and control, adjustable pads for different watch sizes, and an 18-month warranty make it the best choice. This is an economical option that should suit those looking for a cost-effective double watch winder.
FAQS
1. What is a double watch winder?
A double watch winder is a watch box that can wind 2 watches simultaneously. They are usually larger than a single watch winder and sometimes include extra storage for even more watches. Double winders work like their single counterparts, except they have two winder spaces to wind two different watches. Most settings and programs allow you to turn both of the watch cushions at the same TPD and direction. Some do allow you to set each watch cushion separately. This makes it possible to wind two very different watches at the same time on the same device. Some double winders also have additional storage space for more watches. Presumably, because most people who buy double winders have a small collection of watches and they like to keep them together, away from dirt and grit that could damage them.
2. Who is the double winder suitable for?
Double watch winders are a great option for collectors who own several watches. If you are buying a watch winder for the first time, it is recommended that you use a single watch winder on which you can test your watch. Then, when you're sure your watch will work well on the winder, you might want to opt for a double.
There are many things you need to pay attention to, such as the number of watch positions, TPD, rotation direction, power supply form, material, etc.
If you want to know more about watches and watch winders, you could browse our blog, where there is a variety of information for you. If you want to see more models of watch winders, you can take a look at JQUEEN, we provide a full range of services for you.