Comparison of Watch Winder at Different Prices
Jul 21, 2021
Watch winders at different prices have different qualities and functions. Which one is more suitable for you? Today, I will compare a few models and show you the advantages and disadvantages of different price winders. I will give you a reference to purchase.
1.Rapport EVO SINGLE WATCH WINDER
Founded in London in 1898, Rapport has the pragmatic spirit of a British traditional brand, focusing on three areas: watch winder, hard cases and leather goods. Rapport's watch winder is different from European and American luxury brands with flamboyant shapes. It is more of a simple foreign trade, and a good quality that is durable and durable.
Rapport's safe with a rocking table position and luxury custom hard case should be the most commendable part of this brand. It was even recommended as one of the 9 best custom hard case brands by Robb Report in 2017. It is as famous as Louis Vuitton and Hermes and other big brands.
The rapport with such a reputation must be top-notch in making watch winders. A watch winder compared today is rapport' s most popular EVO series watch winder. It has 3 mode of rotation direction. The retractable table pillow is very convenient for customers to use. It runs almost without sound. The built-in battery can support 35-45 days. Its small and exquisite appearance is very attractive, and with nine different colors, there is always one color that is your favorite. This price is 325 pounds (about 446 dollars)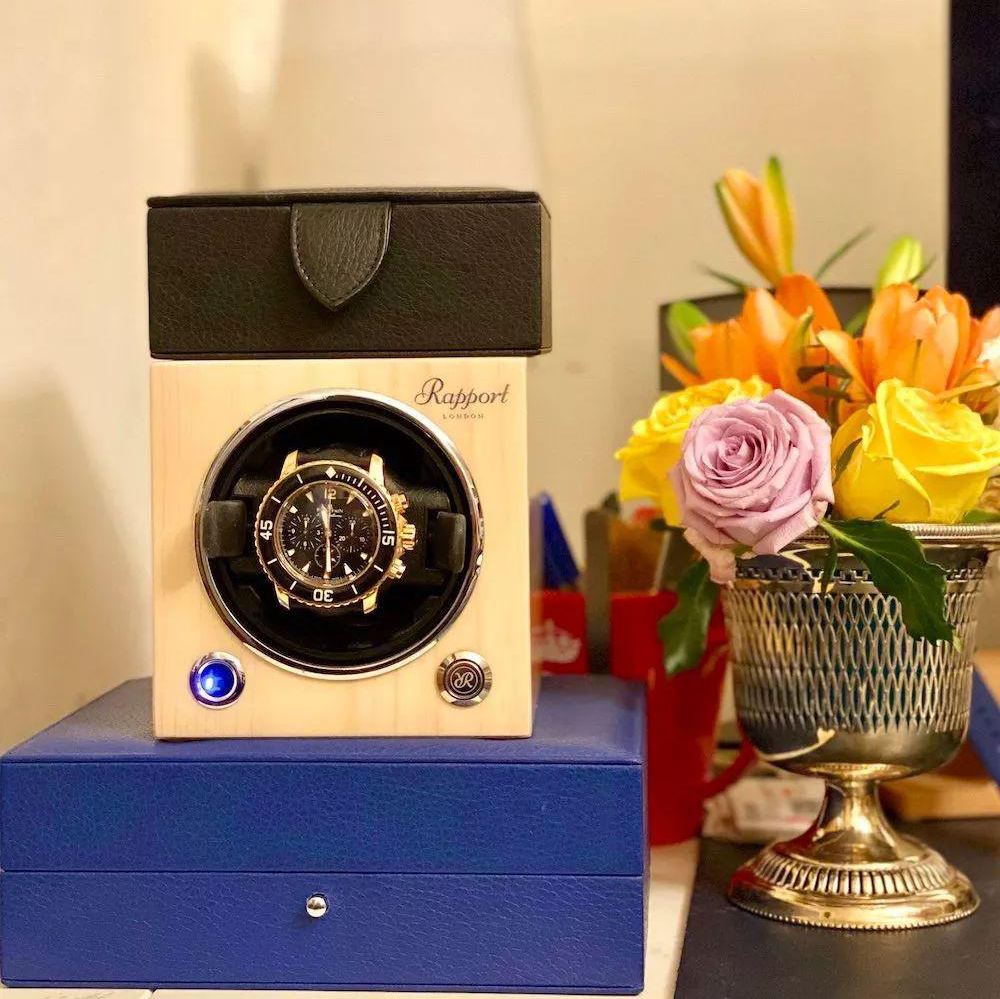 2.WOLF BRITISH RACING GREEN SINGLE WATCH WINDER
WOLF' s watch winder must be a household name among watch lovers. This old brand, which originated in 1834, has moved to London after several relocations. WOLF' s Swedish and UK factories were now working with many major watch, jewellery and other brands. Tissot, Zodiac, Citizen, Omega, Certina, even making the coasters for Concorde. Brands that demand quality and great design came to WOLF.
Today WOLF partners with numerous watch and jewellery brands providing them with 100% accurate watch winders and jewellery cases that protect jewellery from tarnishing. Innovating designs and making the impossible, possible.
WOLF is most praised for its patent for calculating the number of revolutions per day, which is also the reason that attracts most watch lovers to buy wolf. The ability to accurately calculate the number of revolutions is also very important for the accuracy of the watch. The watch winder of Wolf uses a low-key dark green with gold as auxiliary decoration. The gold edge of the turntable and the position of the lower mode adjustment show its high quality and luxury. There are also two watch storage places on Wolf's one watch position, which is very suitable for people with a small number of watches. A watch winder can handle the winding and storage together. The price of this one is 639 dollars.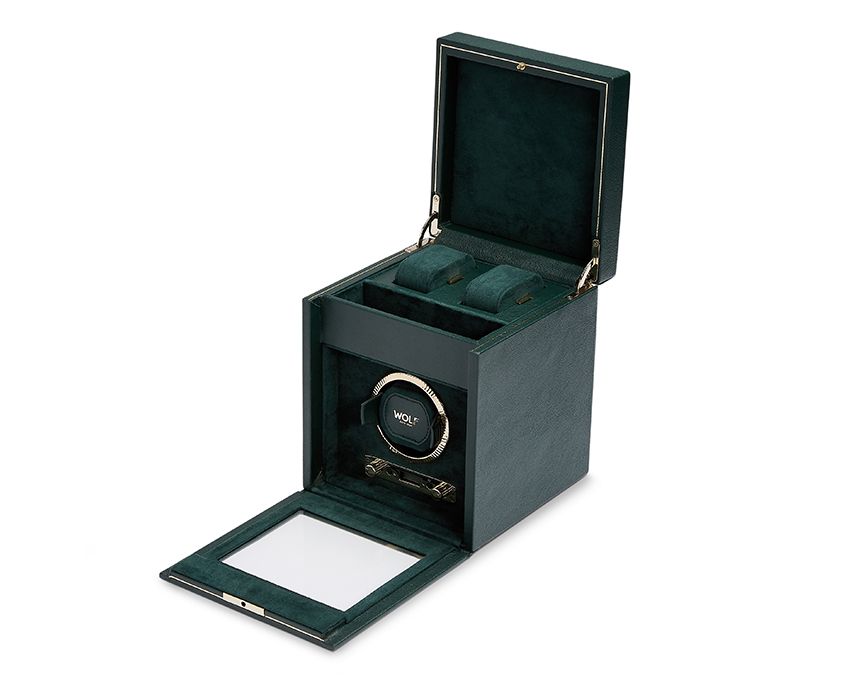 3.MODALO INSPIRATION DOUBLE WINDER
Modalo is a German brand that has been producing high-quality watch winders, exclusive watch boxes and first-class watch cases for many years. Its AMBIENTE 2 series also won the 2020 German Design Award. It can be seen that MODALO is very good in the appearance design of the watch winder. The two-position winder I want to talk about today is his best-selling model. Black rectangular shape, rounded lines, solid and durable wood. The turntable is designed with silver edges, which is very low-key and luxurious. Three rotation directions are adjusted, practical and compatible. The fly in the ointment is that this watch winder does not have a cover, so the watch tends to accumulate dust. The price of this one is 299 euro (352 dollars).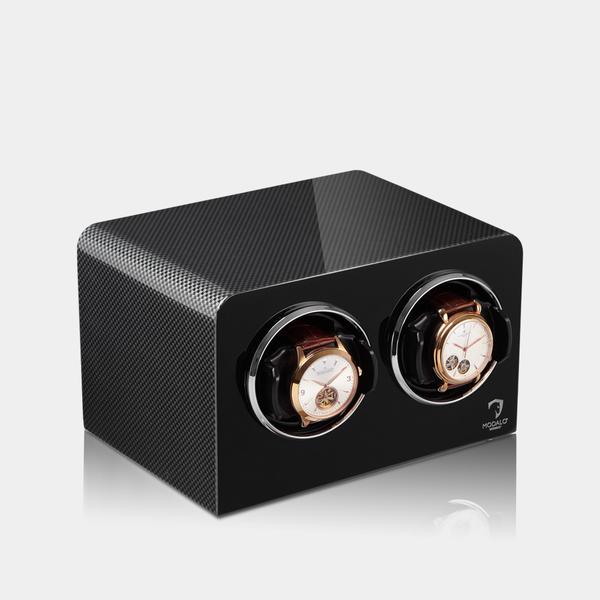 4. JQUEEN watch winder 2 Watches with Quiet Motors in Black Red Leather
Compared with the above mentioned models, JQUEEN is a rising star. Although the brand is new, the craftsmanship is excellent. A century of German craftsmanship, focusing on making high-quality watch winders and watch boxes, will definitely give you a wonderful experience.
This two-position watch winder adopts the classic black and red color scheme, which is elegant and beautiful. The leather is soft and of good quality. The stitches are even and the wiring is smooth. The rotation direction and TPD can be set to make your watch more accurate. There are four storage places under the watch winder, the capacity of which can meet your needs. The price of this one is 245 dollars. In their website, there is a discount of 10 dollars for more than 150 dollars, and 20 discounts for more than 299 dollars. If you fill in your email address, you can also get a 5% discount.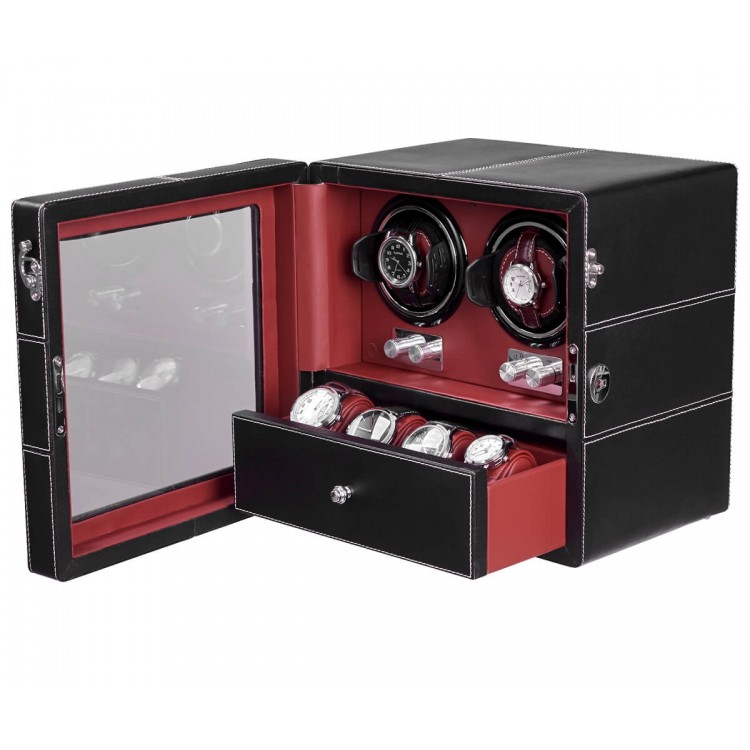 Through the comparison of these several models, I think it is not difficult to find that the brand JQUEEN is cost-effective, high-quality and inexpensive. Of course, if there is something you like among the other ones, you might as well try it.